Carl Craig
Items 1 to 1 of 1 on page 1 of 1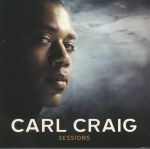 Cat: K7 224LP. Rel: 11 Sep 17
Minimal/Tech House
Junior Boys - "Like A Child" (Carl Craig remix) (10:17)

69 - "Psychobeat" (unreleased) (3:09)

Innerzone Orchestra - "Bug In The Bass Bin" (Carl Craig "Sessions" mix) (10:20)

Delia Gonzalez & Gavin Russom - "Relevee" (Carl Craig "Sessions" remix) (10:19)

Rhythm & Sound - "Poor People Must Work" (Carl Craig remix) (6:30)

Paperclip People - "Throw" (unreleased version) (14:29)

Carl Craig - "Futurelovetheme" (Carl Craig "Sessions" mix) (10:23)

Directions - "Busted Trees" (Carl Craig "Sessions" remix) (5:32)

Beanfield - "Tides" (Carl Craig "Sessions" remix) (13:54)
Review: Renowned producer, remixer, DJ and record label owner Carl Craig is one of the few artists who can truly claim to have shaped the sound of
modern electronic music. Making music since the tender age of 17, Craig has created everything from ambient soundscapes to jazz
during the past 20 years, but it's his work in dance music that is at his core. 'Sessions' is a long overdue album that brings together a personal
selection of Carl's incredible back catalogue, from his early work under the aliases Paperclip People and 69 to worldwide hits like 'Throw'
(recently covered live by LCD Soundsystem) and groundbreaking tracks like 'Bug in the Bassbin'. Alongside the classics, the two discs also showcase why Craig is still such a powerful force in music today with a diverse range of remixes for the likes of XPress 2, Theo Parrish and many others. For his rework for Junior Boys'. 'Like A Child' he was just nominated for a Grammy.
The selection also includes previously unreleased tracks, alternative versions of his own productions, as well as some exclusive unreleased
remixes. 'Sessions' reminds us of how exciting and unique Carl Craig's productions and remixes are and why he remains at the top of his game,
a retrospective of one of the world's most influential and groundbreaking figures in electronic music.
…

Read more
Items 1 to 1 of 1 on page 1 of 1