Items 1 to 3 of 3 on page 1 of 1
Cat: WDSB 04. Rel: 27 Sep 17
Disco/Nu-Disco
Frank Angles - "Please U" (7:37)

Buzz Compass - "Your World" (5:10)

Alex Zuiev - "Bus Stop" (6:27)

Murge - "Sounds Of The Inner City" (7:03)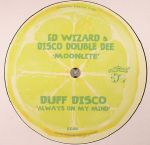 Cat: ED 020X. Rel: 16 Aug 17
Disco/Nu-Disco
Ed Wizard & Disco Double Dee - "Moonlite" (6:27)

Duff Disco - "Always On My Mind" (6:38)

Buzz Compass - "U Deserve It" (6:01)

Get Down Edits - "Hey (Whats Happening)" (5:46)
Review: On this latest must-have missive, the Editorial crew has assembled an all-star cast of re-editors and house-loving disco rework merchants. Thrillingly, it contains a now rare outing from slo-mo specialist Duff Disco, whose atmospheric, beatdown style chugger "Always on My Mind" is undoubtedly one of the best things he's released in years. Props, too, to Irish disco-house specialists Get Down Edits, who weigh in with the warm and summery grooves of "Hey (What's Happening)". Elsewhere, Buzz Compass subtly beefs up and filters out a sleazy disco favourite on the constantly rising "U Deserve It", while Ed Wizard and Disco Double Dee get the party started in their inimitable style via a touch of disco/hip-hop fusion ("Moonlite").
…

Read more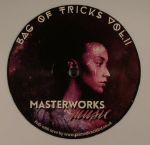 Cat: MMV 004 . Rel: 29 Apr 16
Disco/Nu-Disco
Robjamweb - "You Know How" (8:58)

Buzz Compass - "Chief Inspector" (5:37)

Saine - "You Can Count On Me" (4:42)

Voodoo Whiskey - "Singapore Sling" (6:15)
Review: At long last! The 15-strong collection of nu-disco, boogie, cosmic and deep originals and edits landed digitally last November. Finally the vinyl's arrived with four of the many highlights all pressed to vinyl and sounding all the richer for it. Highlights among these highlights include the dubby rumbles of Saine's "You Can Count On Me", the velvet funk chugs of "Singapore Sling", the undeniable Cathy Denisisms of Robjamweb's "You Know How" and the soft focus mid tempo synth sleaze of "Chief Inspector".
…

Read more
Items 1 to 3 of 3 on page 1 of 1