Items 1 to 2 of 2 on page 1 of 1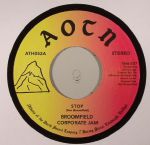 Cat: ATH 052. Rel: 24 Aug 17
Disco/Nu-Disco
Stop (3:54)

Doin' It Our Way (3:32)
Review: The Broomfield family troupe - led by Aaron Broomfield - laid down a sweet series of rare groove 45s during the late 70s, this Keb Darge-championed 45" from 79 (originally on Taurus) being one of the most popular. With its high energy, slick keys and sparkling percussion "Stop" sits slap in the middle of disco and boogie while "Doin' It Our Way" hits with much more of a jazz funk feel with bold harmonies hitting hard on the chorus. Previously spotted passing for L400 - it's another expert democratisation by AOTN.
…

Read more
Played by:
Scratchandsniff
,
JimmyTheTwin
,
OdDio
,
Athens of the North (Fryer)
,
Mike Shawe ✮ Hot Buttered Soul
,
Phillie P (Ice City Rec)
,
Shawn Ryan (Universal Cave)
,
Boy Oliver
,
Roland Realtime
,
Lexis (Music Is My Sanctuary)
,
I Love Disco!
,
Your Name (Legalize Lambada)
,
Red Greg
,
Deano Sounds
…

Read more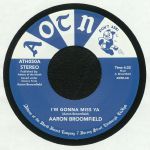 Cat: ATH 050. Rel: 25 Jan 18
Disco/Nu-Disco
Aaron Broomfield - "I'm Gonna Miss Ya" (4:32)

Broomfield Corporate Jam - "Does Anybody Really Know" (4:01)
Review: For their latest trip into "in-demand collector cuts" territory, Edinburgh's Athens of the North shines a light on the work of obscure Miami artist Aaron Broomfield. "I'm Gonna Miss You" originally appeared on Mountain Records in 1981 and has become something of a sought-after record in recent years. It's a brilliant chunk of rubbery Miami synth-funk rich in mazy synthesizer solos, elastic slap bass and the urgent hustle of P-funk. Over on side B you'll find the cosmic soul bump of "Does Anybody Really Know", which appears to a previously unreleased vocal workout featuring some deliciously fuzzy electric guitar solos.
…

Read more
Items 1 to 2 of 2 on page 1 of 1