Items 1 to 2 of 2 on page 1 of 1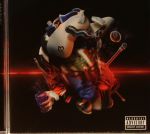 Cat: 082564 6152452. Rel: 27 Feb 15
Electro House
Can't Help Myself (feat SD)

Calculator (feat Chill Will)

Bury Me (feat Maluca & Bricc Baby Shitro)

Francois-Xavier (feat Young Scooter)

Warm Up (feat Slim Thug)

Need For Speed (feat Louisahhh!!! & Bloody Jay)

Interviews (feat I Love Makonnen & Yung Gleesh)

Hector (feat Bricc Baby Shitro)

Follow Me (feat Georgi Kay & Bloody Jay - part 1)

Cheddah (feat Peewee Longway)

51 Bandz (feat 2$ Fabo & Phlo Finister)

Follow Me (feat Chill Will - part 2)

Us (feat Bloody Jay)

On Me (feat Bricc Baby Shitro - bonus track)
$10.58
SAVE 80%
in stock
$2.12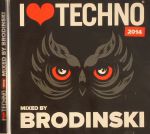 Cat: MMCD 041. Rel: 09 Oct 14
Techno
Joe - "Slope"

Randomer - "Bring"

Appleblim &Peverelist - "Over Here" (Brendon Moeller remix)

Acid Arab - "Sidi Gouja"

Jimmy Edgar - "Frequency"

Marcelus - "24/7"

Jon Convex - "Feel Nothing"

Planetary Assault Systems - "No Exit"

Marquis Hawkes - "Outta This Hood"

Woo York - "I Am Against"

Robert Hood - "Protein Valve" (edit 1)

Claro Intelecto - "Tone"

Alden Tyrell - "Wurk It"

J Tijn - "Floorward"

Bobmo - "It Is Happening Again"

Djedjotronic - "Signal"

MXM - "Nirvana"

Tinfoil - "Foil 1"

Joefarr - "The Projectionist"

Ateph Elidja - "Vision"

J Tijn - "Kanon"

Maelstrom - "Adversarial Design"

Adam Beyer - "Crispy Bits A2"

Zadig - "Panic"

Speedy J& George Issakidis - "Sculpture"
Review: Ghent's I Love Techno festival is something on an institution; a messy celebration of all things techno that's been running since 1995. Ahead of this year's instalment - taking place on November 8 - French producer and Turbo regular Brondinski has put together this commemorative mix. As you might expect, it's a robust affair, mixing acid-flecked fare from Claro Intellecto and Alden Tyrell with the Detroit flavours of Planetary Assault Systems, the exotic rhythms of Acid Arab, the snappy box jams of Marquis Hawkes, and the booming, in-your-face throb of Robert Hood, Adam Beyer and Speedy J. As such, it offers a superb snapshot of energy-rich, floor-friendly techno in 2014.
…

Read more
Items 1 to 2 of 2 on page 1 of 1