Artists
Items 1 to 1 of 1 on page 1 of 1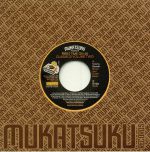 Cat: MUKAT 057. Rel: 02 Apr 18
Funk
Tommy Stewart - "Bump & Hustle Music"

Bridge - "Stella"
Review: It seems strange that Tommy Stewart's seminal rare groove funk anthem 'Bump And Hustle Music' has never had a 45 release, but Mukatsuku has set out to address this issue with Volume 2 of their 'First Time On A 45 Classics' series. On the flipside we find Bridge's sublime version of 'Stella' via the originally unreleased album 'Crying For Love' - recorded in Boulder, Colorado in 1981. First Experience reissued that album in 1999 but this is the first time 'Stella', written by Paul Tillman Smith has been made available as a 45. Juno copies come with an exclusive hand-stamped inner sleeve and branded card outer sleeve. DJ support from Red Greg,Fleamarket Funk,The Allergies, 45Live, Peter Croce, Boca 45 and Snowboy etc
…

Read more
Played by:
Mukatsuku Records Chart
,
The Allergies
,
TiTo (Troubled Kids Records)
,
Rudy's Midnight Machine
,
Calagad 13
,
Faze Action
,
Voodoocuts
,
DJ MOAR_JAY AIRINESS (Venice Beach)
,
Marc Hype
,
Osmose
,
I Love 45's!
,
SOUL 45
,
Justin Gg Green
,
SIMON OZBIZTON
,
Ear Trumpet (The Weekend Soul)
,
Red Greg
,
Professor Shorthair
,
Soul Music
,
45 Live
,
LEGO EDIT
,
Dynamite Cuts
…

Read more
Items 1 to 1 of 1 on page 1 of 1