Artists
Items 1 to 2 of 2 on page 1 of 1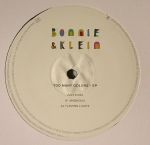 Cat: ZZZV 15033. Rel: 19 Oct 15
Balearic/Downtempo
Magnolia (6:26)

Flaming Lights (6:42)

Give It A Try (feat Rolly) (5:59)

Aquavivas (7:42)
Review: Following a surprise outing on Paul 'Mudd' Murphy's Leng label, Bonnie and Klein return to the comforting surrounds of Kenneth Bager's Music For Dreams imprint. While their work has always been dreamy and horizontally inclined, Too Many Colors features arguably their most downtempo material to date. Certainly, the woozy, floating chords and languid rhythms of "Magnolia" evoke memories of the golden age of chill-out, while "Flaming Lights" is more Balearic than sharing a jazz cigarette with Alfredo and Jose Padilla. The string-laden vocal number "Give It A Try" has a touch of the "Unfinished Sympathy" about it, while "Aquavivas" smartly fuses chiming melodies, exotic influences, dub rhythms and bustling Afro-Cuban percussion.
…

Read more
Cat: U 12. Rel: 13 Nov 17
Balearic/Downtempo
Tones Of Ballad

Tones Of Ballad (Drifts Projects remix)

Pretty Lake

Snowdrifts
Review: Bonnie & Klein can often be found cruising round labels like Music For Dreams and Leng, imparting tender touches of Balearic finery for those who like to cruise on the slinkiest of 80s flavoured jams. They're on cracking form for this return to Uber, kicking off with the sultry "Tones Of Ballad", which gets a subtle beefing up from Drifts Projects on the remix. "Pretty Lake" is the cut for those who want to achieve pure transcendental bliss by way of canned slap bass and sustained chords, and then "Snowdrifts" finishes the EP off with a thoughtful piece shaped out by sweet piano and stirring strings.
…

Read more
Items 1 to 2 of 2 on page 1 of 1