Artists
Items 1 to 1 of 1 on page 1 of 1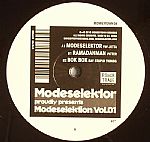 Cat: MONKEYTOWN 004. Rel: 27 Sep 10
Dirty Dubstep/Trap/Grime
Modeselektor - "VW Jetta"

Ramadanman - "Pitter"

Bok Bok - "Say Stupid Things"
Review: In case you haven't heard, Berlin based duo Modeselektor recently announced the inception of a new compilation series entitled Modeselektions, and here we have a delectable taster of what is to come. Featuring the selectors themselves on "VW Jetta", a purposeful, bouncing, dancefloor-driven beat and glitched out rhythm mark a firm statement of intent from the off. Hessle Audio co-founder Ramadanman follows up with the "Pitter", a glorious exploration that combines high-pitched squeals with stretched out synthetic manipulations and rousing strings, plus copious dollops of murmuring bass. Bringing part one of the EP to a climactic close, Night Slugs star Bok Bok draws out a delectable finale. Breathy vocals rattle against cheeky, crackled sampled words in "Say Stupid Things" as jingling SFX rumble away with the distorted vocals injecting a short, sharp dose of humour.


…

Read more
Items 1 to 1 of 1 on page 1 of 1