Items 1 to 3 of 3 on page 1 of 1
Cat: SSR 203. Rel: 26 Apr 17
Funk
Bobby Byrd - "Hot Pants-I'm Coming , Coming , I'm Coming" (2:32)

Lyn Collins - "Mama Feelgood" (4:19)
Review: Soopastole now strikes out on his own eponymous 7' edits series and we must say it's impressive. These are well executed and above all much needed edits so credit to the edit! On the A side "Hot Pants" is an edit of the original track and the "dub beats version" (found only on the Urban release in 1988) starts with the drum break. On the flip we have got "Mama Feelgood" which has heavier drums and the instrumental intro and outro.
…

Read more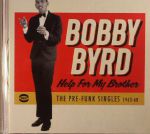 Cat: CDBGPD 309. Rel: 29 Sep 17
Funk
I Found Out

They Are Sayin

I'm Just A Nobody (parts 1 & 2)

Baby Baby Baby (with Anna King)

I Love You So

Write Me A Letter

I've Got A Girl

I'm Lonely

We Are In Love

No One Like My Baby

Time Will Make A Change

The Way I Feel

Let Me Know

You're Gonna Need My Lovin'

Oh, What A Night

Lost In The Mood Of Changes

Ain't No Use

I Found Out

I'll Keep Pressing On

Funky Soul #1 (part 1)

Funky Soul #1 (part 2)

I'll Lose My Mind

My Concerto

You Gave My Heart A Song To Sing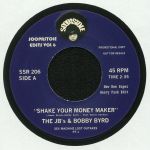 Cat: SSR 206. Rel: 24 Oct 17
Funk
Shake Your Money Maker (part 1) (2:38)

Shake Your Money Maker (part 2) (2:38)
Review: Just 300 copies of this tasty, club-ready 7" single from the Soopastole Edits stable exist, so you'll have to move fast to secure a copy. As usual, Jalepeno Records' regular Soopasoul is at the control, using his trusty scalpel to deliver two hot-to-trot interpretations of a lesser-known cut from the "Sex Machine" sessions. On side A, you'll find "Shake Your Money Maker (Part 1)", where Maceo Parker's killer saxophone solos rise above Soopasoul's slightly tightened up version of the JB's killer groove. Flip to the B-side for more sax solos and a groove that mines some of the original track's more percussive sections for hip-swinging, toe-tapping thrills.
…

Read more
Items 1 to 3 of 3 on page 1 of 1