Items 1 to 2 of 2 on page 1 of 1
Cat: CONGBURNTAPE 05.
Experimental/Electronic
BFTT - "Track 1"

Lack - "Track 2"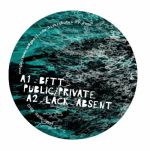 BFTT - "Public/Private"

Lack - "Absent"

Chekov - "Celeste"

Howes - "Untitled"
Review: Cong Burn made a mighty splash with its first release, clearly flaunting the kind of wares you'd expect to hear from Livity Sound alumni or other such esteemed techno renegades. The second installment is no slouch either, featuring a new cast of crooked creators offering up their wares for the modern mutant dancefloor. BFTT has a weighty low end thrum powering "Public/Private", while Lack takes things in a scuffed and nimble direction. Chekov pushes out into more experimental pastures with the broken beats and displaced sound design of "Celeste" and Howes creates a wonderful strain of mystical deep house for darkened souls. Each one of these tracks is loaded with flair and personality, yards ahead of your average generic knock offs and presenting something with real merit to the convoluted world of dance music.
…

Read more
Items 1 to 2 of 2 on page 1 of 1