Items 1 to 1 of 1 on page 1 of 1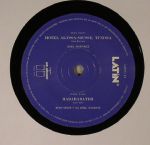 Cat: LAT 4503. Rel: 14 Nov 14
International
Sabu Martinez - "Hotel Alyssa Sousse,Tunisia"

Benny More Y Su Orchestre - "Babarabatiri"
Review: Mr Bongo have united two hugely influential cuts of pure Latin dynamite right here - neither of which have ever been pressed to 7" before. The familiar far-west-meets-north-African fusion of Sabu's "Hotel" still hits as hard now as it did in the 70s. With screaming horns and emphatic Q&A vocals, there's still nothing else out there that sounds anything like this. For the B we head back to the 50s for a bone fide Cuban missile; "Babarabatiri". A firing jazz document that's been covered by the likes of Tito Puente, Quantic and many more, those spiralling horns will arrest you the second the needle hits the wax.
…

Read more
Items 1 to 1 of 1 on page 1 of 1
Filter
Benny More Y Su Orchestre