Items 1 to 2 of 2 on page 1 of 1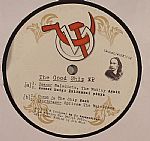 Cat: (KUNST/WORK) 002. Rel: 20 Aug 13
Minimal/Tech House
Beaner - "Maledicta, The Mutiny"

Khrom Ju - "The Ship"

Skirtchaser - "Splice The Machine"
Review: After making their presence felt with the lavish packaging of their first release, the La Mission crew joins forces again with all the characters present for another well-presented journey through leftfield house and ambient compositions. Beaner's "Maledicta, The Mutiny" is the most direct of the offerings, working a mournful cello line and forlorn piano chords over a crisp tech-house rhythm while alien vocal samples inject the weird factor into the track. Krohm Ju meanwhile ditches beats in favour of a bass-laden experimental piece rich in compositional clout, as layers of arpeggios and lingering chords work to create a stirring piece. Skirtchaser then rounds the proceedings off with a low slung deep house affair with a scuffed beat and evocative found sound that feels like a brisk Sunday afternoon in autumn rolled into gently pulsing rhythm.
…

Read more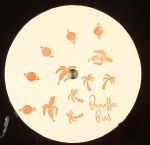 BP004
(limited hand-stamped 12" + insert)
Cat: BP 004. Rel: 03 May 16
Deep House
Beaner - "It Takes Two"

Philou Louzolo - "Alter Ego"

Ron Wilson - "Albino Turtle"

Mome - "Assatta"
Review: It's always unwise to judge a label that's still taking its' first steps, but Banoffee Pies has barely put a foot wrong since launching a couple of years back. Here, the Bristol-based imprint continues with its' successful split release formula, gathering together a quartet of tracks from up-and-coming producers. Beaner kicks things off with the bumpin', low-slung deep house grooves and delay-laden guitar samples of "It Takes Two", before Philou Louzolo raises the temperature with the looped horn samples and thumping beats of "Alter Ego". Flip for the dreamy Balearic house goodness of Ron Wilson's "Albino Turtle", and the bongo-laden, after-party deep house shuffle of Mome's "Assatta".
…

Read more
Played by:
Owain Kimber (Owain K)
,
Corbi
,
Replika (Quintessentials)
,
Seq9
,
Arthur Barr [KMAH Radio]
,
Monsieur Cedric (Serie Limitee)
,
Brothers' Vibe
,
NightMoves
,
Melon
,
Juno Recommends Deep House
,
Cottam
,
Osmose
,
Beaner
,
Nicola conte
,
Bodhi
,
Djs: Most Charted - Deep House
,
Rikki Humphrey
,
Better Listen Records
,
Admin
,
SofaTalk
,
25 Places
,
Nachtbraker
,
Bradford James (DS Records)
,
Philou Louzolo
,
LesYeuxOrange
,
Dancing Like Quagmire
,
DMS12
…

Read more
Items 1 to 2 of 2 on page 1 of 1