Items 1 to 1 of 1 on page 1 of 1
FORTHCOMING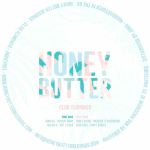 Cat: HONEY 001. Rel: 30 Oct 17
Deep House
Swales - "Pushin' Away"

Ari Bald - "Hot 2 Cold"

Sable Blanc - "Musique D'Ascenseur"

Eben Rees - "Dirty Dishes"
Review: Honey Butter Records serves up it's first round of wax with their 4 track VA 'Club Flamingo'.

On 'this side' you'll first hear the mesmerizing sounds of the UK based producer, Swales, warmly welcoming you with a grand piano & one sticky vocal in Pushin' Away.

If you let the needle run you'll surely end up near our capital, which our homie Ari Bald is based. Best known for his moonshining (pun intended) house. Hot 2 Cold is a 909 laced 4/4 honey stomper and will surely serve your peak hours.

Flipping the record will land you somewhere in France with Sable Blanc's dreamy yet creamy house track Musique d'Ascenseur. Perfectly cut samples, freshly rolled drums & voila! bon appetite.

Eben Rees wraps up this double sided honey dripper with his Dirty Dishes. And it starts with a hi-hat. All love storys do right?





…

Read more
Items 1 to 1 of 1 on page 1 of 1