Artists
Items 1 to 3 of 3 on page 1 of 1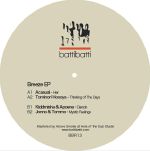 Cat: BBR 13. Rel: 27 Mar 17
Deep House
Acasual - "Her"

Tominori Hosoya - "Thinking Of The Days"

Kiddmisha & Apoena - "Dancin"

Jonno & Tommo - "Mystic Feelings"
Review: The latest offering on Owen Jay's Batti Batti label features a cast of characters doing different but equally excellent things within the realm of deep house. Acasual is up first, presenting a reflective tour through lingering chords and swirling pads perfect for rainy spring days, while Tominori Hosoya goes one further with the soul-stirring ambience of "Thinking Of The Days". Kiddmisha & Apoena set light to the B-side with the restrained but utterly on-point depth charge "Dancin", and then Jonno & Tommo round the record out with the sultry "Mystic Feelings", making this a complete package of high grade house music from the heart.
…

Read more
Played by:
Owen Jay (Batti Batti / Gauss )
,
Brian James
,
Tomi Chair
,
Michael Terzian
,
Ernie (Minuendo Recordings)
,
Corbi
,
TiTo (Troubled Kids Records)
,
Matt Pond (DeepSystems)
,
Rai Scott (Inner Shift Music)
,
JONNO & TOMMO
,
Monsieur Cedric (Serie Limitee)
,
Brad P/Inner Shift/Common Dreams
,
G-Prod
,
Djs: Most Charted - Deep House
,
Manuel Costela/Bucketround
,
DJP / Soul Print Recordings
,
Kiddmisha
,
Jacksonville
,
IV Mickey
…

Read more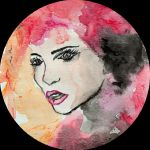 Cat: ALLN 005. Rel: 13 Mar 17
Deep House
I Know You (7:18)

Tristeza Nao Tem Fim (5:36)

Lost (6:12)

Mama Loves You (6:03)
Review: Having been approved by labels as respected as Underground Quality and Autoreply, Brazilian producer Apoena returns to his Allnite label with yet more of that pure and heartfelt deep house music for those who like it classic and classy. "I Know You" punches and tickles in all the right places with its dreamy keys, soulful vocal lick and rock solid drum lines, while "Tristeza Nao Tem Fim" heads into even more blissed-out territory with its rolling groove and heavy-lidded chords. "Lost" has a solid bottom end thrust that wouldn't sound out of place on a Mike Huckaby record, and "Mama Loves You" brings more of that sweet, laid back, feel good feeling to finish up this impeccable collection of house jams.
…

Read more
Cat: ALLN 006. Rel: 05 Feb 18
Deep House
Track 1

Track 2

Track 3

Track 4
Review: This is a really special record for label boss APOENA, as he show us his sampling art work as never before. Being a brazilian producer him self, he delivers a 4-tracker colection of sofisticated deep house versions of intrumental brazilian music from the 70's and 80's. This is a jewel for bar and pub events or any Deep House dancefloors.

…

Read more
Items 1 to 3 of 3 on page 1 of 1