Items 1 to 3 of 3 on page 1 of 1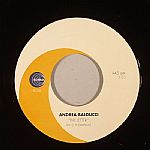 Cat: SC-702. Rel: 17 Sep 12
Soul
The Letter

Big City
Cat: SCLP 459. Rel: 28 Jan 13
Broken Beat/Nu Jazz
Hurt So Bad

The Letter

Spooky

I Will Never Stop Loving You

Within Myself

Big City

I Just Dropped In

Time Will Come

Everytime We Say Goodbye

The Meaning Of Love
Review: Having teased the jazz fraternity with a cheeky 7" earlier on this year, Andrea assuages our ears with this super smooth full lengther. Pristinely polished and produced with a big band feeling, there's a distinct Rat Pack feeling as we stride confidently through big choruses and sassy sambas ("I Will Never Stop Loving You") before diving headfirst into mournful smoky saxophone and piano laments ("The Meaning Of Love"). A common face performing on the French Riviera, hopefully this should take Balducci to the broader audience he deserves...

…

Read more
Cat: SC 715. Rel: 27 Mar 17
Jazz
Spooky (4:10)

Hurt So Bad (3:45)
Review: A timely revisit to two of the stand out covers on Italian jazz/lounge posterboy Andrea Balducci's 2012 album Bloom. "Spooky" is a soft, sweet and succinctly measured take on Shapiro and Middlebrooks' mid 60s standard while "Hurts So Bad" is a respectful twist on Weinstein, Harshman and Randazzo's similar era classic that was made famous by Linda Ronstadt years later.
…

Read more
Items 1 to 3 of 3 on page 1 of 1