Items 1 to 1 of 1 on page 1 of 1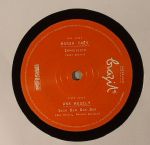 Cat: BRZ45 015. Rel: 15 Dec 14
International
Bossa Tres - "Imprevisto"

Ana Rosely - "Skim Dum Dum Dum"
Review: More Brazilian brilliance from the Mr Bongo crew! Never released on 45 before, both tracks tell contrasting sides of Rio's rich story... "Imprevisto" is a dynamic piece of timeless jazz with splashing cymbals and scattershot pianos that gradually build into a dramatic groove that's held together with a lolloping double bass. "Skim Dum Dum Dum", meanwhile, showcases the city's funkiest roots. Big horns, undulating bass and Ana's rhythmic vocals create a universal disco experience that's peppered with Latin heat.
…

Read more
Items 1 to 1 of 1 on page 1 of 1