Items 1 to 2 of 2 on page 1 of 1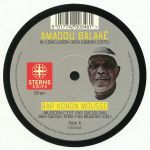 Cat: STEDIT 002. Rel: 10 Jan 18
International
Bar Konon Mousso (Musicien C'est Pas Quelqu'un) (Ben Gomori N'est Pas musicien edit) (8:00)

Massa Kamba (Ben Gomori's Massabbatical edit) (9:11)
Review: This officially licensed 12" sees prolific British disco producer Ben Gomori take a scalpel to two cuts from veteran African musician Amadou Balake's 2015 album, In Conclusion. On side A you'll find a fantastic, eight-minute extension of the breezy shuffler "Bar Konon Mousso (Musicien C'est Pas Quelqu'un)", where snaking saxophone solos and sun-kissed, juju style guitars rise above a hot-stepping, bass-heavy groove. Turn to the flipside for a thrillingly epic take on "Massa Kamba", a deeper and slightly more musically intricate cut blessed with a blissful; Pat Metheny style jazz guitar breakdown, memorable chorus vocals and evocative horn lines.
…

Read more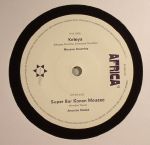 Cat: AFRO45 002. Rel: 06 Jul 15
International
Moussa Doumbia - "Keleya" (4:51)

Amadou Balake - "Super Bar Konon Mousso" (5:23)
Review: Sweaty funk fusion abounds as Moussa Doumbia follows up his appearance on Mr Bongo's first Afro 45s release with the equally frenetic and chaotic "Keleya". Recorded in 1974 and previously rarer than hen's teeth, it's loaded with shouts, cries and floor-burning bellows. Meanwhile on the B we're hit hard by Amadou Balake who made international speakers shake in the 70s with their Latin/Afro fusion. Steamy, unpredictable and flawlessly funky with its firm focus on the guitar backbone, it's another impeccable discovery from the ever-digging Bongo team.
…

Read more
Items 1 to 2 of 2 on page 1 of 1