Items 1 to 1 of 1 on page 1 of 1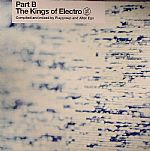 Cat: RR 073LP. Rel: 02 Oct 07
Electro
Maurizio - "M4"

Modeler - "Mint Condition"

Detroit Grand Pubahs - "Big Onion" (Joakim remix)

Azzido Da Bass - "Dooms Night"

Galaxy To Galaxy - "Jupiter Jazz"

Robert Hood - "Minus"

Dopplereffekt - "Cellular Phone"

Mu - "Chair Girl"

Low Res - "Amuck"
Review: "The Kings Of..." series continues in its aim of bringing you forgotten and neglected gems from the world of music. For the ninth title in this highly acclaimed series we delve into the vast, exciting world of electro. Influential DJ/designer/producer and remixer Playgroup (aka Trevor Jackson) pairs up with production/remix duo Alter Ego to bring you a selection of their top tracks. This is a top Rapster release.
…

Read more
Items 1 to 1 of 1 on page 1 of 1