Artists
Items 1 to 3 of 3 on page 1 of 1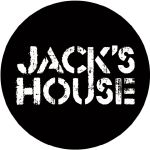 Cat: JKH 001. Rel: 29 Aug 16
Minimal/Tech House
Half Life

Wormhole

Confirmation Bias

Once Again We Meet At Last
Review: Jack's House Recordingslaunched by long serving island resident DJ and producer Clara Da Costa, is a new label born out of Ibiza, which also boasts a successful weekly prime time live radio show that focuses mainly on exclusives and vinyl releases, broadcasted on the award winning Ibiza Sonica. Jack's House also hosts parties at the worlds most famous club, Space for Carl Cox. This first release comes from the talented and well respected, Alex Arnout from Dogmatik Records. Alex has had numerous releases over the years on many other respected labels such as One Records and the Fuse imprint. He is also known for launching, nurturing and finding good talent. This 4 track EP fully demonstrates Alex's versatility in the studio by offering 4 distinctive quality productions which can only be described as true house, and underground house music, made with integrity.
…

Read more
Cat: LOSTTIME 009. Rel: 12 Mar 18
Deep House
No Borders (feat Jovonn)

Downtown 500

Riddim

Jam The Dance
Review: "Lost in Time continues to be highly selective with it's rare releases, but when Alex Arnout presented a 4 track EP alongside the legendary Jovonn, we knew we had the next single. New York house pioneer Jovonn has influenced dance music with an eclectic discography dating back to the early 90s and is cited by many of the greats as an inspiration. Previous artists on Lost in Time include Chez Damier, S.A.M, Tuccillo, Subb-an & Ralph Lawson. The label explores the roots of underground deep house and dub techno.

The title track 'No Borders' was created in a live session in London with keys by Jovonn played over Arnout's analogue synths and heavily swung drums. Elsewhere on the EP 'Downtown 500', 'Riddim' and 'Jam The Dance' serve up hard hitting; drum heavy grooves for the dance floor.

A1 - No Borders - Alex Arnout Feat Jovonn
A2 - Downtown 500
B1 - Riddim
B2 - Jam The Dance
. "

…

Read more
Cat: JKH 008. Rel: 26 Feb 18
Minimal/Tech House
Alex Arnout - "Hypersomnia"

Tuccillo - "Another Day"

Terry Francis - "Jua"

Kilian Vega - "Ardour"
Review: The second series of Jacks Tracks VA Vol 2 presents 4 distinctively different tracks from both established and upcoming talent. First up on the A side is Alex Arnout from Dogmatik Records with Hypersomnia, which is a tough rolling number with haunting subtle keys laid over the top. Then A2, the talented Tuccillo from Unblock with his track Another Day brings a deep skippy house vibe with some cool vocal snippets over the top driven by its baseline. On the B side are more Tech House flavours and Fabric resident legend Terry Francis presents Jua which is a timeless House number previously unreleased , now signed and ready for an official vinyl release. Last but not least, young new talent Kilian Vega with Ardour, a groovy infectious rolling underground house vibe. In short, an EP with 4 strong individual tracks from sincere and dedicated music makers.





…

Read more
Items 1 to 3 of 3 on page 1 of 1