Items 1 to 3 of 3 on page 1 of 1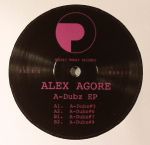 Cat: PMR 006. Rel: 14 Jun 17
Deep House
A-Dubz #3 (6:00)

A-Dubz #6 (5:15)

A-Dubz #7 (5:56)

A-Dubz #9 (6:43)
Review: The enigmatic Alex Agore returns! The Berlin based producer and co head of No Matter What (with Scot James Johnston) and Closer To Truth (with Brit David Nicol) serves up some more of his timeless classic house jams here on Pocket Money: an independent label based out of Manchester that's dedicated to releasing modern underground house music with rhythm and soul, influenced by New York, Detroit and Chicago. This follows up a great release by Polish producer Soul Habitat. On the A side it's all about the raw NYC basement vibe of "A-Dubz #3" taking you all the way back to the glory days of The Red Zone. On the flip, the uplifting garage sounds of "A-Dubz #7" are reminiscent of classic Junior Boys Own while the thumpin' "A-Dubz #9" has that undeniably Kerri Chandler vibe happening. Tip!
…

Read more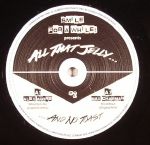 Cat: ATJ 001. Rel: 01 Aug 16
Deep House
Alex Agore - "What Did I Do" (Lowtone remix))

Max Chapman - "Breakdown"

Oleg Poliakov - "Windy Thoughts"

Mutenoise - "Jazzve"
Review: All that jelly and no toast - like when you find a bomb tune that's unavailable on 12". The new sublabel of Smile for a While is exactly about this. Clubby House Music by well-established producers as well as from lesser-known guys. French guy Alex Agore opens the EP with the Lowtone remix of "What Did I Do" - cut-up Garage House to the maxx. Max Chapman from London delivers another belter; a bassline-driven organ House tune with a minimalistic but very effective set-up. Oleg Poliakov - aka SKAT and one of the guys behind Circus Company - comes up with a sublime but powerful Tech House tune, in the original sense of the genre name. "Jazzve" is a tune by Russian producer Mutenoise. It's maybe the most original, innovative tune on this EP. Full of surprises and cutting-edge elements - hard to compare to anything else around these days.
…

Read more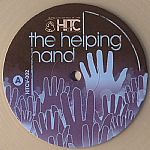 Cat: HITCV 002. Rel: 30 Jun 10
Deep House
Osaze - "Sunday" (feat Jaidene Veda - Jimpster remix - remix & additional production by Jamie O'Dell)

Alex Agore - "Sometimes U Gotta Walk Way"

Atjazz - "From Me To You"

Vakula - "Moon Above Moscow"
Items 1 to 3 of 3 on page 1 of 1