Items 1 to 2 of 2 on page 1 of 1
Cat: XXX 004 2 . Rel: 30 May 17
Deep House
Alterleo - "Train To..." (6:59)

Al Gobi - "Rule Of Three" (9:02)

Jack Pattern & John Parsley - "Kaboom" (5:55)

Roger Van Lunteren - "On And Dna No (The Sun Riser)" (5:06)

Phil Gerus - "Prelude To Love" (4:37)
Review: The XXX crew are on a mission to celebrate the adventurous and utterly well-informed dance music scene of Amsterdam, and they move to the fourth release on their label with a strong cast of characters that all have something different to say. Alterleo opens up the 12" with the low-throbbing psyche out of "Train To..." before Al Gobi takes over with the aqueous hardware house bubbles of "Rule Of Three". On the B side, Jack Pattern & John Parsley work together to lay down a fierce blend of industrial and disco that will send shivers down your spine. Roger Van Lunteren meanwhile revels in the squelchiest kind of esoteric acid with a new age mystique thrown in for good measure, and then Phil Gerus provides a soothing soliloquy to finish this distinctive record off.
…

Read more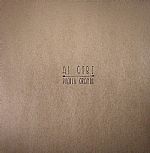 Cat: CSV 001. Rel: 28 May 14
Deep House
Cup Of Tea (Cottam Ruff Treatment)

Cup Of Tea

Pueblo Grande
Review: The Constant State label launches in style with a record from Ian Blevins & Phil Moody's Al Gobi outfit, who had something of a breakthrough 2013 with releases for Disco Bloodbath, Rothmans, Culprit LA and Audio Parallax. While the original mix of "A Cup of Tea" is dark and unsettled - beautifully balanced bass notes and piano cutting through heavy, storm-pregnant air, Cottam's accompanying remix is the distillation of a second wind. His tribal, twisted, acidic treatment of this 3am concrete bunker anthem never overwhelms the piano refrain, instead giving it a new life, like the ghost of a party suddenly bequeathed fresh purpose as tired legs find boundless energy. Meanwhile, "Pueblo Grande" offers a different side to Al Gobi's productions; something harder, more insistent. Submerged snares and synths like razor wire combine with a raw bassline that stomps eloquently from 1994 to present day without missing a beat - and possibly inventing a few on its way - to create something wonderfully unique and very, very special.
…

Read more
Items 1 to 2 of 2 on page 1 of 1