Artists
Items 1 to 2 of 2 on page 1 of 1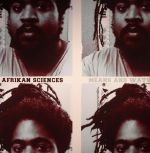 Cat: DBRV 006LP. Rel: 15 Aug 16
Broken Beat/Nu Jazz
Spirals (3:31)

A Tonk (3:12)

Two As 36 (4:26)

Call Back (6:46)

Alpha Male Syndrum (2:54)

Ejercicios (8:26)

Entitlement (7:01)

Go Speed (5:13)

Wreck Create (5:40)

NanoRock SKANK (2:01)

Ways & Means (4:24)
Review: Some five years after it was released digitally, Aybee's Deepblak label revisit the wonderful Afrikan Sciences LP Means &Ways to grant it a double LP vinyl edition. For those unfamiliar with the album, the 11-track set showed Eric Porter refusing to stand still, variously touching on polyrhythmic IDM, dusty jazz-hop, dense post-techno wonkiness, hard-to-pigeonhole madness (see "Alpha Male Syndrum"), sparkling aural experiments ("Ways & Means"), and pleasingly off-kilter dancefloor fare. Amongst this category you'll find deliberately out-of-time deepness, slipped broken beat, and dense drum workouts ("NanoRock Skank"). As usual, Porter's tunes are bizarre but brilliant.
…

Read more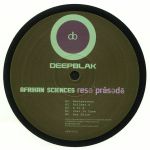 Cat: DBRV 032. Rel: 12 Feb 18
Deep House
Reciprocess (4:29)

Hullman Z (6:01)

Get It G (1:51)

Just In Case I Do (4:12)

Son Shine (8:32)
Review: You can always count on Afrikan Sciences to flip the script with what you think soulful electronic music should sound like. Tearing the grid up and pinging off on a cosmic voyage in between the notes, this is futuristic, jazz-minded machine music of the highest order. "Reciprocess" is a shuddering, but surprisingly focused exercise in cracking open the house music structure, while "Hullman Z" gets into a brilliantly futuristic boogie. "Just In Case I Do" takes a more laid back approach without eschewing the essential dose of freakiness, and "Son Shine" takes things in an explicitly broken beat direction with spellbinding results.
…

Read more
Items 1 to 2 of 2 on page 1 of 1